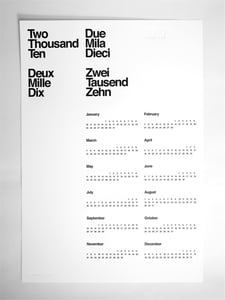 $

30.00
Limited edition of 50 letterpress prints featuring a calendar with the year printed in English, Italian, French and German. The 2010, the days of the week, and the edition number line are all printed blind. Type is set in Helvetica.
The print is measured at 16.5" x 23.5" (A2) and printed on Crane Lettra Fluorescent White 110# (300gsm) paper.
Each print is numbered and signed.
Printed by Coeur Noir of Brooklyn, NY.
View detailed photo gallery.
Each printed is rolled up along with 30# Kraft paper, placed in a polyethylene bag, and shipped in a 3" x 18" rigid Kraft tube cushioned with extra Kraft paper.
Prints will be shipped via USPS Priority Mail for domestic orders and First Class Mail for international orders. Priority Mail takes 3-5 days and First Class Mail takes 5-10 days.
$4.95 - United States
$4.00 - Canada
$9.00 - Everywhere Else
If you're looking for an affordable framing option, I recommend picking up a good-looking, but inexpensive, IKEA Ribba Frame (19.75" x 27.5") and have a custom matte cut to fit it.
Payments are securely processed using PayPal. All major credit cards are accepted.